Demo Software Login
USA List Categories
Business Opportunity Seekers
College Students
Computer and Tech Savvy
Christians Men & Woman
Credit and Loan Inquiries
Dating and Romance
Debt Inquiry's
Discount Seekers
Entertainment (General)
Financial Stocks, Forex, Small Cap
Fitness and Personal Training
Gamblers & Betting
Income Targeted High Income
Insurance Inquiries
Job Seekers
Health & Nutrition
Home Owners
Mortgage Loans & Refinancing
Music (general music lovers)
Online Shoppers
PayDay Loans
Religion (General Religion)
Social Networking
Sports Enthusiasts
Travel & Vacation Planning
Weight Loss Men & Woman

Free Email List with Bulk Email Software
Get a Free USA Consumer Email List up to 5,000,000 with any month-to-month software package below. No commitments, No Contracts!
The OfficialDeliverability is Outstanding and we will not shut down your account for spamming like most other email contact software companies. Each account we setup is built from scratch with their own dedicated IP address and domain IP's can also be added to rotate while sending for best delivery depending on your campaign size. The server and IP addresses are fresh so your email bulk email campaign will be successful. The software has incredible feature like a spam checker tool that will help you best write your message and make sure it does not get delivered into a recipients spam folder. The software has a rate limiting feature that can slow down sending to the following domains: aol.com, comcast.net, gmail.com, hotmail.com, live.com, msn.com, yahoo.com to help improve delivery yet still broadcasting your emails at a high rate of speed. With features like Dedicated Servers, Rate Limiting, Spam Checker, Google Analytics tracking, Statistics Tracking, Sending Thread Control, IP Rotation and much more it's no wonder we have become an industry leader in high volume bulk email marketing services.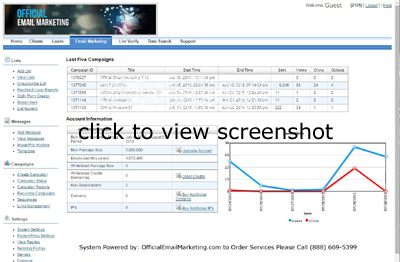 Month to month billing with no commitments or contracts 100% Can-Spam Compliant Sending with full statistics and reporting to monitor your success.
No Setup Fees!!
No Contracts or commitments!!
Cancel Account Anytime!!
Upgrade or Downgrade Anytime!!
Fully Supported Technical Staff!!
All Orders are Mobile Friendly!!
Web-based Email Software Mobile Friendly!!
Free Daily Data Feed or Email List with Registration!!
Nothing to download or install, simply log into your online software account from anywhere and manage, send, and monitor your email marketing campaigns. The email campaign do not send from your internet connection, or email account! Dedicated software support staff, to answer any help questions you have on an ongoing basis.
The Official Email Marketing Software provides all the functionality for users to fully manage their email marketing campaigns. You use our provided dedicated servers so you will never have problems with your web host or ISP. Everything you need is online and their is nothing to download. We have a full time support staff to answer any and all of your support questions. We understand you will have questions, and we provide the answers. We are here to virtually hold your hand and help you succeed with your bulk email marketing campaign.
The Web-based bulk email software comes with an abundance of user-friendly features. With our software, you will receive full stats reporting of how many people viewed your email message, how many people click through from your email message, and how many people opted out from receiving future mailings. The Official Email Marketing bulk email software offers the most affordable and cost-effective pricing structure on the planet.

Bulk Email Software Package

Setup Fee + Free Emails Included

Per Month

Send up to 100,000 Emails
Setup $0.00 + Choose 100,000 USA Category Targeted Email List Free

$299.95

Send up to 500,000 Emails

Setup $0.00 +

Choose 500,000 USA Category Targeted Email List Free

$399.95

Send up to 1,00,000 Emails

Setup $0.00 + Choose 1,000,000 USA Category Targeted Email List Free

$499.95

Send up to 5,000,000 Emails

Setup $0.00 + Choose 1,000,000 USA Category Targeted Email List or Daily Data Feed for 30 Days Free!

$649.95

Send up to 10,000,000 Emails

Setup $0.00 + Choose 1,000,000 USA Category Targeted Email List or Daily Data Feed for 30 Days Free!

$799.95

Send up to 30,000,000 Emails

Setup $0.00

 + Choose 1,000,000 USA Category Targeted Email List or Daily Data Feed for 30 Days Free!

$899.95

Send up to 50,000,000 Emails

Setup $0.00 + Choose 1,000,000 USA Category Targeted Email List or Daily Data Feed for 30 Days Free!

$999.95

Note: All accounts include one Fresh Sending IP Address: Additional IP's can be purchased at anytime. Software can rotate your IP's during your sending for maximum results. Additional IP package pricing is as follows; 1 additional IP $50, 5 additional IP's $100, 16 additional IP's $200, 32 additional IP's 300, 64 IP's $400
What to expect once your order is submitted?
1) After you complete the order form below you will be sent a registration confirmation email.
2) We will then process your order and send you a confirmation once payment has been received.
3) We then start to build your software account and once this process is complete we will email you the login details.
Bulk Email Software
Official Registration Form
(Software accounts are billed month to month and can be canceled at anytime.
We will contact you regarding the free email list / data feed offer once the order has been processed through billing)



Your Email Address will NOT be SOLD and is used for our purposes of communicating with you regarding services on this website. Your information is 100% secure with us and is kept confidential and internal. If you have any questions regarding your privacy please read our privacy policy
What People Are Saying
client testimonials
Web Based nothing to download
Login and Manage from any Device
No Long Term Commitments
Free Templates for easy design
Built in CAN-SPAM Compliant
No Technical Skills Needed
Lowest Cost for Email Broadcasting
HTML Message Editor
Mail Merge Personalization
Message Scheduling
Large Volume List Management
Segmentation & Suppression Lists
Large Volume Email List Delivery
Full Stats Tracking and Reporting. View Delivered, Opened, Clicked, Opted Out
Automatically Collects and Removes Opt Outs and Bounce Backs
IP/Domain Rotation
Email Message design & creation tools including Free Templates
Spam content checking system
View message as a web page option
Image hosting option - unlimited images
Powerful list management tools
List builder contact form with autoresponder
List segmentation to send to portion of list
Suppression list support
Built-in suppression database
Unlimited number of list columns supported
No limits on the number of lists per account
Personalization option in message body & subject line
Campaign scheduling
Open & Click thru tracking
Goggle Analytics tracking option
Campaign creation for multiple lists
Set Recurring campaigns
Email reply forwarding
Dedicated IP address per account
Dedicated domain name per account
Blacklist monitoring system - monitors IP's/domains/list quality
Integrated suppression database

Get started today! You can count on our email software support team to assist you with any questions you have with your campaigns 7 days a week!